GSM SWITCH GS300 KIT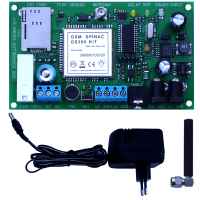 availability:
2 days
All prices are including recycling fee and VAT unless stated otherwise.
Production
from 1.4.2008
Producer
Mikrovlny s.r.o.
Certificates
FTZ┌ Ostrava Radvanice
09.0152-83, 09.0152-83/1, 09.0152-82
TESTCOM ╚MI
0221-PT-B0017B-08

GSM Switch GS300 is designated for controlling connected appliance by Mobile Phone (SMS, Ring on). GSM Switch has temperature sensor, thermostat function, alarm input, real time clock, microrelay output, microphone for tapping. Output is wall socket 230V / 10A. After sim card insertion is GSM Switch GS 300 prepared for use.
Features:

• Switch ON/OFF appliance by SMS or Ring On, 230V/10A
• Switch ON/OFF devices by SMS or Ring On, 50V/0.5A
• Servers reset
• Input and temperature monitoring
• With extenal sensors: motion detection, gas detection, door watch, outage monitoring with history.
• Tapping
• Thermostat
• Temp alarm
• Timer
• Security alarm
• Outage alarm with UPS.
• Can be controled by SMS from Internet.

User manual is here.
GSM SWITCH GS300 KIT is the same like GS300, but there is no MicroRelay output. GS300 KIT has increased tapping quality and temperature measuring accuracy. GS300 KIT has connector for extarnal GSM antenna. Output relay is flip-flop, stand-by consumption is only 0.36 Watts.

Delivered with power supply and external antenna.