IP WATCHDOG 2xRJ45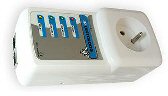 Production
fnished 31.12.2006
Producer
Mikrovlny s.r.o.

IP WATCHDOG (restarter/reseter) with 2xRJ45 interface, telnet, http and SNMP protocols.
Features of our IP WATCHDOG

• manual switch on/off of connected appliance to 230V, 10A socket
• Automatic watching IP devices depend on user defined rules
• Servers reset
• Settings by SNMP, TELNET and HTTP, 2 RJ45 interfaces
User manual is here.