ANEMOMETR TX20USB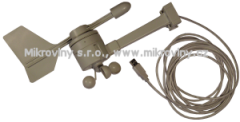 availability:
2 weeks
All prices are including recycling fee and VAT unless stated otherwise.
Production
since 1.1.2007
Producer
Mikrovlny s.r.o.

Anemometer TX20 USB is modification of TX20. This anemometer can measure wind direction, speed, temperature and wind child.

Anemometr has USB 5m usb cable and is delivered with software and drivers.
For easy settings and installation we recomended Windows XP or Windows Vista automatic USB device detection.
Fast and easy instalation, mobility and simple program with all data and calibration.
TECHICAL DATA
Wind speed........................0 to 180 km/h (0 to 50 m/s)
Resolution..........................0,1 m/s
Wind Direction....................16 slots, 360°
Wind Direction resolution.......22,5°
Temperature......................-55°C to +125°C
Temp Resolution..................0,1°C
Accuracy...........................+/- 0,5 °C in range -10°C to +85°C
+/- 2°C from -55°C to -10°C and +85°C to +125°C
Sampling time .....................5 s
Dimensions..........................250 x 277,6 x 77,9 mm
Power supply.......................5V/10mA USB