HDO switch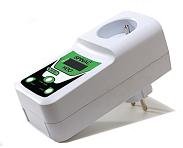 availability:
2 days
All prices are including recycling fee and VAT unless stated otherwise.
Production
since 1.4.2008
Producer
Mikrovlny s.r.o.
Certificates
FTZÚ Ostrava Radvanice
08.0764-83/1,08.0763-83, 08.0764-76, 08.0764-82, 08.0764-77, 08.0764-79
TESTCOM ÈMI
0221-PT-B0017F-08

If you don't like pay for high electricity tariff, HDO switch is best choice for you. You can connect to this switch appliance such as washing-machine, dish-washer, heating or any other electric appliance. HDO switch turn-on your appliance in low electricity tariff and let you know by acoustic signal.
What is HDO and how it works
If your house is connected to electrical system by 2 tariff electrometer , you are on the Right place.
Our HDO switch can detect low electric tariff and turn on connected appliance or (and) let you know about low tariff by acoustic signal. HDO (Mass Remote Control) is system controled by Electric providers and is used to connect appliance like boiler, furnance, etc. when electric network is in low load. Electricity in low load is cheaper from 14% up to 200% (depend on tariff rate).
User manual is here.
HDO receiver must be set in your switch board for operational control to: ZPA IMPULS/IMPULS,. In case of other signal (locality HODONÍN, BØECLAV, NOSISLOV - VERSACOM) our HDO switch is not usable.
More information on www.kdosetrimazatri.cz
Simulator for HDO switch settings. When you enter data from your HDO receiver you can see after STEP button press: