IP GSM WATCHDOG TC35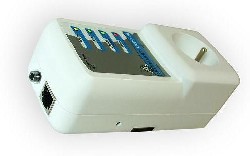 Production
finished 31.12.2006
Producer
Mikrovlny s.r.o.
Successor
GS300

IP GSM WATCHDOG (restarter/reseter) with 1xRJ45, GSM and SNMP support. Input for PIR sensor and integrated temperature sensor.
Features:
• manual switch on/off of connected appliance to 230V, 10A socket
• Automatic watching IP devices depend on user defined rules
• Integrated temp sensor, alarm, input for PIR sensor.
• Controling by SMS
• Settings by SNMP, TELNET and HTTP, RJ45 interface
User Manual is here.